'A vigorous, clump-forming perennial to 70cm tall, with dark green foliage and strong, well-branched stems'
— RHS
There is no other michaelmas daisy quite like Aster × frikartii 'Mönch'. Easy, reliable, spectacular. It starts into flower earlier than any other Aster — typically July in my garden — and flowers for longer — in my garden I have had it in bloom for five months (see photo below, taken in December). However, it is at its best in September, when hundreds of lilac flower heads festoon each plant, creating clouds of colour and cascades of daisies. All this at a time when most perennials have passed their best.
[Photos taken at dusk]
△ On sunny days Aster 'Mönch' is buzzing with pollinators. I have recorded many species of bee, hover-fly and butterfly visiting it in my garden. [Eristalis nemorum Sep 2023]
▷ Fading flowers of Aster 'Mönch' curl up (rather photogenically) and are quickly replaced by newly opened ones. Consequently, deadheading is unnecessary until late September, at which point the older flowers begin to outnumber the new.
▽ The Mönch aster makes a good cut flower. Here it is in a vase with some orange roses. Even when the water level dropped and some of the aster stems were left high and dry they recovered surprisingly quickly — better than the roses in fact.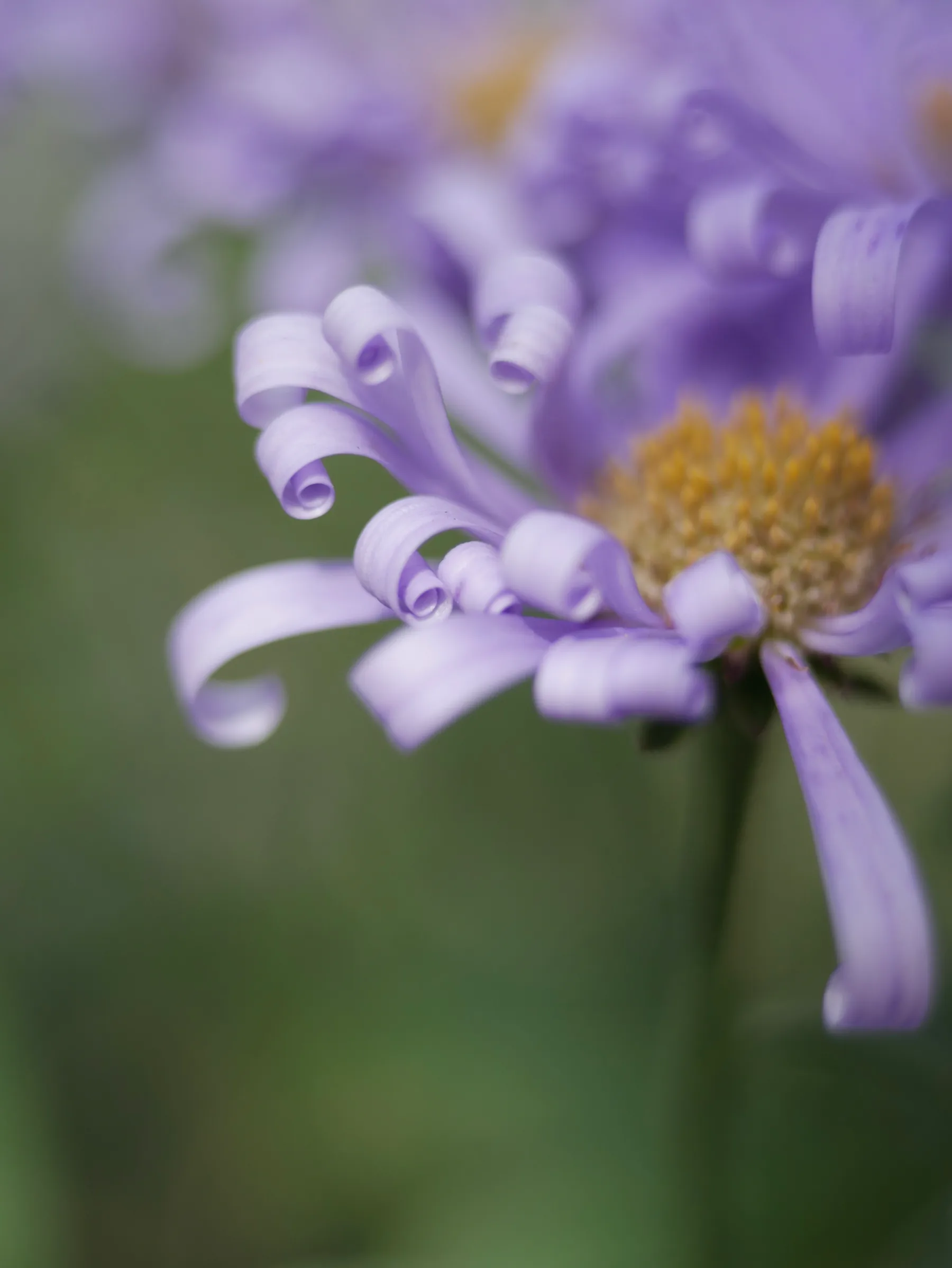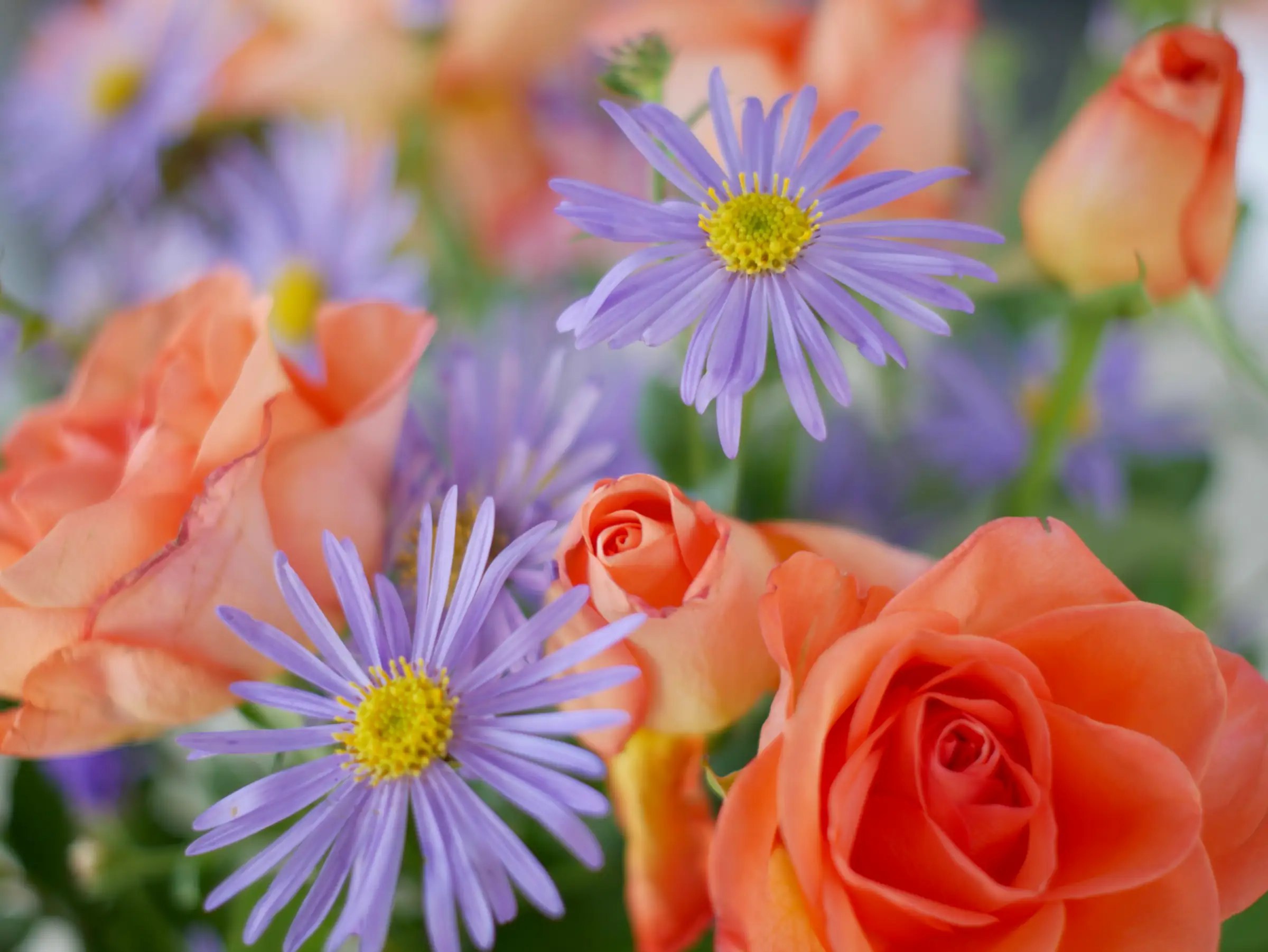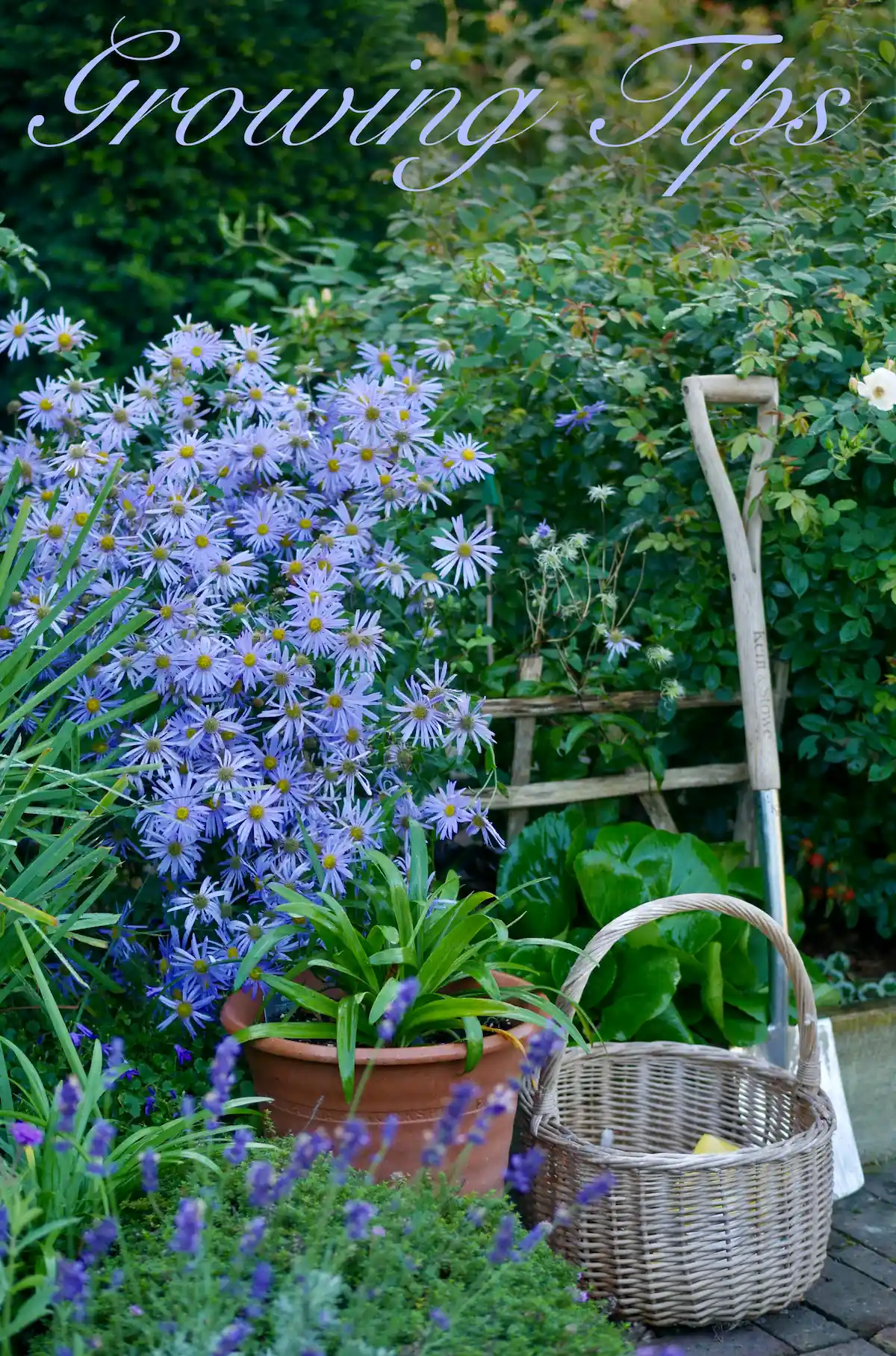 Free flowering, well-branched, with sturdy stems that often do not need staking, this aster is easy to grow, trouble-free and mildew-resistant
How to Grow
Tough and disease resistant, Aster × frikartii 'Mönch' will grow in any reasonable well-drained soil as long as it does not become waterlogged. It prefers full sun, but will tolerate part-shade. Avoid overhanging branches. Every few years it is best to divide the plant to maintain vigour. Ideally, this should be done in early spring, although I have dug up and moved clumps successfully in the autumn, and even left such divisions in a pot for many months without harm.
Reaching 2-3ft (60-90cm) tall, Aster 'Mönch' should be planted towards the middle of the border. The lower stems can be rather bare (as above). These can be hidden by planting suitable perennials in front of them. In shade or after heavy rain, Mönch's stems can flop, so may benefit from support. That said, if they flop early in the season, the branching stems tend to fill in any gaps, creating a neat mound as they have done in one of my corner beds, below.
What to plant with Aster × frikartii 'Mönch'
I have four clumps of Aster 'Mönch' growing in my Mediterranean Pond Garden, part of which is seen here. In this scene it is growing with tall purple Verbena bonaiensis and silver-blue Perovskia atriplicifolia; Shorter plants include mauve Tulbaghia violace, various pink Sedums, pink and white Alliums (A. senescens 'glaucum' and A. tuberousa) and sea thrift (Armeria maritima). Silvery-blue foliage is provided by Artemisia alba 'Canescens', Euphorbia myrsinites and Snow-in-Summer (Cerastium tomentosum)
Also Looks Great With…