Sisyrinchium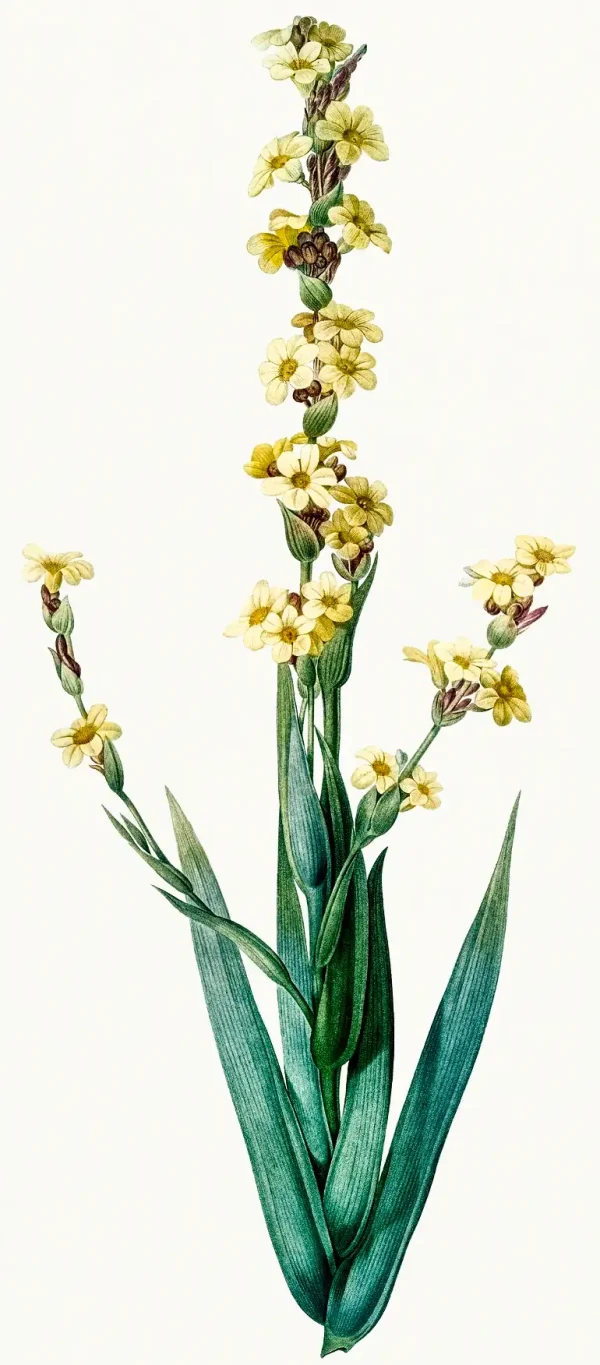 The blue-eyed grasses are a broad genus of New World flowering plants which include several garden-worthy perennials. Two that I have come to value are the ground-hugging S. bellum (background photo) and the taller S. striatum (illustrated here).

Despite their common name, they are not grasses, but actually members of the iris family (Iridacae), which is evident in their sword-like foliage. Their penny-sized starry flowers, however, are quite unlike irises, opening in succession for many weeks in the summer.

I like these Sisyrinchium for their architectural structure and quirky botanical details, but also for the strong splash of colour they add to the summer border.

Although there are hundreds of species, only a dozen cultivars are commonly available, but among those you can find a range of colours including blues, purples, white, yellow, and pinkish-browns.
Side-by-Side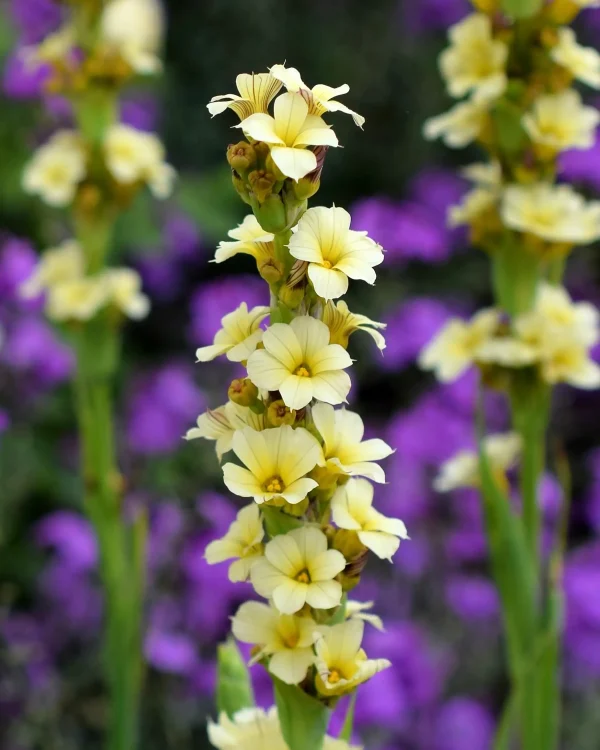 PALE YELLOW-EYED GRASS
Sisyrinchium striatum
A medium sized clump forming perennial with semi-evergreen iris-like foliage produced in fans. In summer tall flowering spikes carry flowers that open in succession over many weeks.

20 in (50 cm)
18 in (45 cm)
yellow
late May-July
full sun
free-drained
tall spires of flowers
avoid over-fertile or waterlogged soil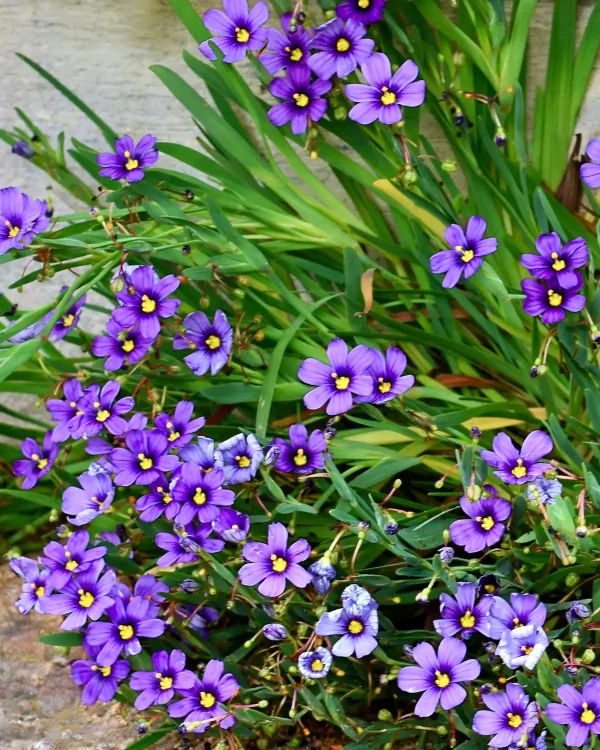 Blue-EYED GRASS
Sisyrinchium bellum "Rocky Point" or "E.K.Balls"
A small clump forming perennial with bright green grassy foliage. In summer it produces a succession of violet-blue starry flowers on short stalks. It spreads slowly by runners as well as seed.

4 – 8 in (10 – 20 cm)
12 in (30 cm)
blue | purple | yellow
June-July
full sun
moist, free-drained
compact grassy clumps of foliage
avoid over-fertile or waterlogged soil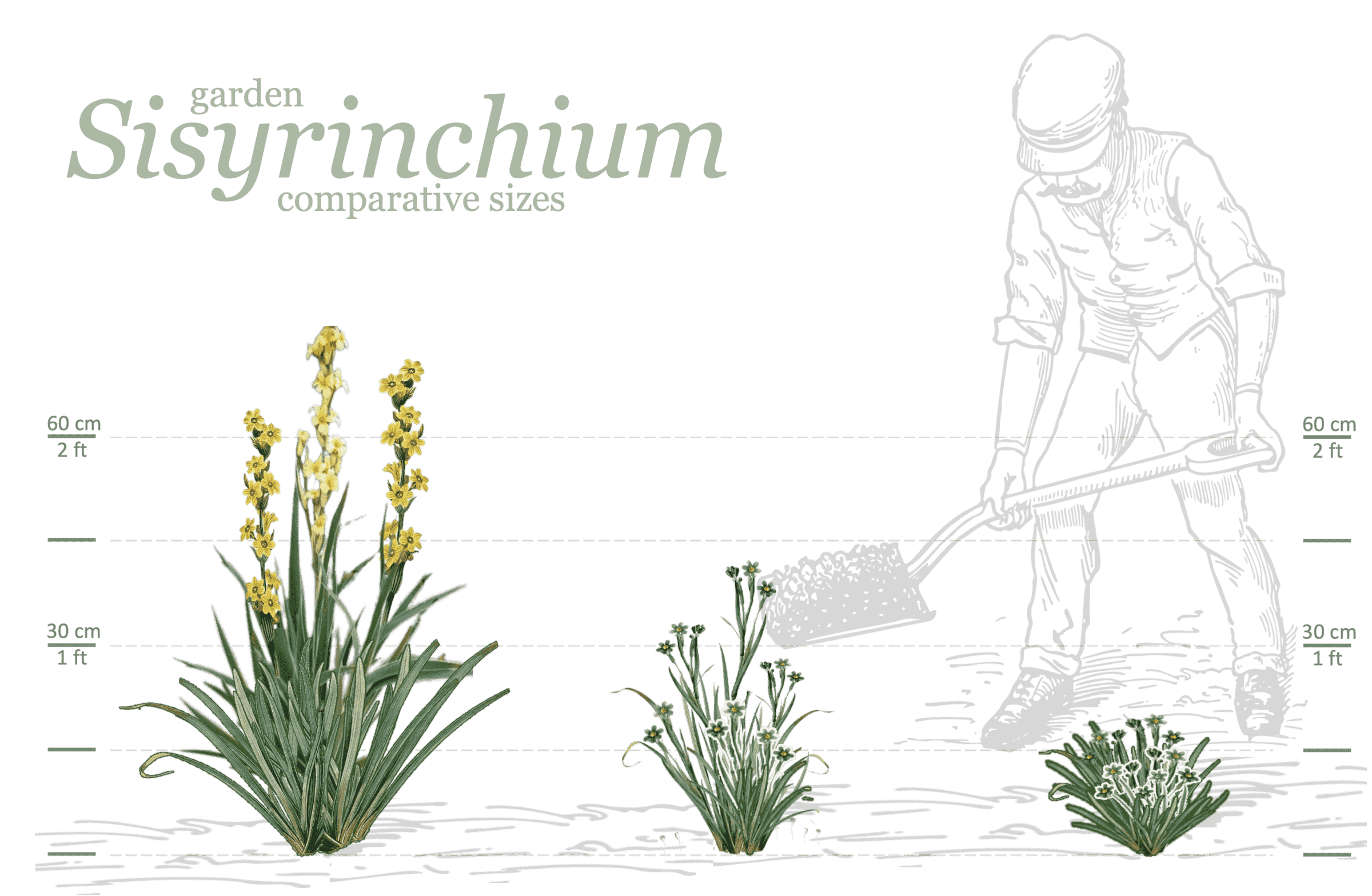 LARGE
45-60 cm | 18-24 in
S. striatum
(pale-yellow)

S. striatum 'Aunt May'
(variegated foliage)

S. boreale
(yellow, aquatic)
MEDIUM
20-45 cm | 8-18 in
S. bermudiana/angustifolium
(purple)
S. 'Quaint and Queer'
(crushed strawberry)
S. graminoides
(purple)
S. palmifolium 'Canary'
(bright yellow)
SMALL
10-20 cm | 4-8 in
S. bellum 'E.K Balls / Saphire'
(purple)
S. angustifolium 'Album'
(white)
S. 'Californian skies / Devon skies'
(sky blue)
S. 'Biscutella'
(buff/mauve)
Article continues on page 2
Read on to find out more…