I may never buy another box plant
thanks to Box blight and Box Moth caterpillar.
Box. I used to love it. But I can't see me buying it ever again. In the last decade it became really fashionable with huge quantities of clipped, cloud-pruned specimins being imported from the continent and filling garden centre aisles. Somehow (and I'm not blaming the Italians) we have also imported several new pests and diseases: at least two forms of fungal box blight and more recently Box Moth.
The results are devastating.

Buxus semivirens (Box to you and me) has long been a traditional staple of English Gardens. Its fine, dense foliage is easy to trim into tight topiary, hedges and geometric form, and it tolerates almost every garden aspect from deep shade to open borders. With few pests and diseases, box has for centuries been a tough and reliable staple that has shaped the character of some of the most important gardens in the World: Vita Sackville-West's gardens at Sissinghurst, West Dean Garden's in West Sussex. I was at West Dean last month, and saw that they are have serious problems with both blight and box-moth caterpillars. They have miles of dwarf box hedging and it is looking very sad indeed.

Here's a side by side comparison of how the box hedging in the fruit garden has deteriorated — not a pretty sight:
It can't help that with Covid they don't have the staff and volunteers to keep on top of the problem this year, but I noticed in 2019 that they have taken out many metres of box hedging near the garden entrance, presumably because of the the problems with managing Box. If the hedges in the walled garden have to go (and I am sure they will) it will change the character of these historic gardens for ever.
Below are photos from my garden, showing both blight and a box moth. Blight has been a problem for me for the last four years, but the box moth only arrived last year. In 2019 I only had a couple of plants with box moth caterpillars, and I thought I had got rid of them. This year I have had dozens of plants infested and the moth has had three breeding cycles. I'm sure they are now endemic and will fly in from adjacent gardens however hard I try to eradicate them.
Too much box?
Unfortunately, I have a lot of box in my garden. Here is a quick summary:
Front garden
Clipped dwarf box hedging (30 cm high/wide) – 35 m
Clipped box balls in pots (40 cm ⌀) – 4 off
Clipped box cones in pots (50 cm high) – 2 off
Large shrubs in pots (80 cm) – 2 off
Large shrubs in ground (80 cm+) – 3 off
Back garden
Clipped dwarf box hedging (30 cm high/wide) – 28m
Clipped box balls in pots (40 cm ⌀) – 1 off
Clipped box columns in ground (50 cm ⌀ 1m high) – 4 off
Clipped box balls, large, in ground (60 cm+) – 5 off
Clipped box balls, small, in ground (30 – 40 cm+) – 14 off
Section of hedge (1m high) – 80 cm long
As you might imagine, keeping all of these clipped and looking their best took a lot of time and effort. With the advent of blight, maintenance has become even more difficult as every last clippings needs removing to reduce the chance of infection or reinfection: a near-impossible task which only adds to the problems with so much box. Add to this the spraying regimen required to suppress blight and caterpillars and all this box is fast becoming a liability. So what's the solution? One possibility is to simply grow less box and look after it more carefully. In the long run I may be fighting a losing battle but it's either that or rip it all out now and try something completely different.
Managing the problem: Downsizing
Cutting back on the amount of Box
I have made the decision to remove up to 50% of the box in my garden. I'm going to take out the worst effected plants, especially where those are also high maintenance. By reducing the number of plants that I have to care for there is more chance that I stay on top of the rapidly multiplying pests and diseases that now afflict box plants.
Box Balls on Corners of the pond (KEEP)
These sentinels give important structure to this area. As these clipped balls have a lot of air and dry brickwork around them they should be less susceptiple to blight. They are also easy to get at for trimming and picking up fallen foliage. They are also easy to spray, so I will put in the maintenance to try and keep these disease and pest-free. NOTE: the hedge in the background of this photo is lonicera nitida – a fine-leaved evergreen that is great for clipping and does not suffer from pests or diseases. Unfortunately it's too vigorous for dwarf hedging.
Dwarf Box Edging along trained fruit beds (REMOVE)
This boundary has a very narrow bed in which I grow fruit trees in trained forms on the fence. The box hedging that ran along the edge of this bed was one of the first to get blight a couple of years ago and I have failed to control it. It has spread to most areas so I took the decision to grub it up. Keeping such a large amount of box hedging trimmed is arduous, so I don't mind seeing that job reduced. The expanded bed gives me opportunities to plant the space with evergreen herbs, perhaps.
Clipped Dwarf Box Hedging (KEEP)
These two areas of box hedging are in what was my vegetable garden (now Mediterranean Pond Garden) where there are a number of raised beds of perennials. Both have both had attacks of box-moth caterpillar this year, but judicious and timely spraying has helped keep them looking fine. As these are in nice dry open areas they are unlikely to get blight. I'll keep these.
Clipped Dwarf Box Hedging (REMOVE)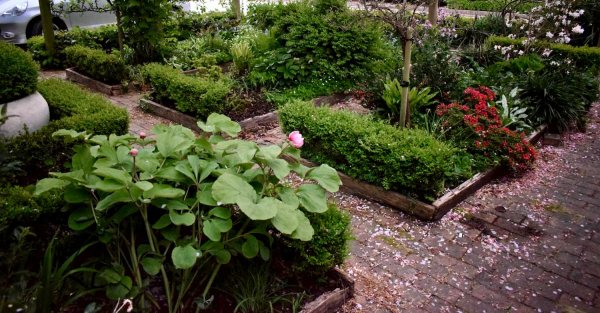 This is a section of my Woodland Garden (front garden). Dwarf box hedging here has always been time consuming to trim, and now it is getting infested with box-moth caterpillars. Surprisingly, it has never shown any sign of blight, despite being under a tree canopy and often having plants flop over it — both are considered bad practise for avoiding blight.
This area was created well over 12 years ago and the raised oak beds are now decaying. I intend to revamp the entire area next year, so with a redesign in mind I removed the dwarf box along the edges of the raised beds (about 14 metres in total). I am keeping the perimeter box hedging, however, which separates this woodland area from the adjacent driveway. I'll let that grow up a bit taller and stronger and focus my maintenance efforts there.
Structural evergreens in my White Garden (keep)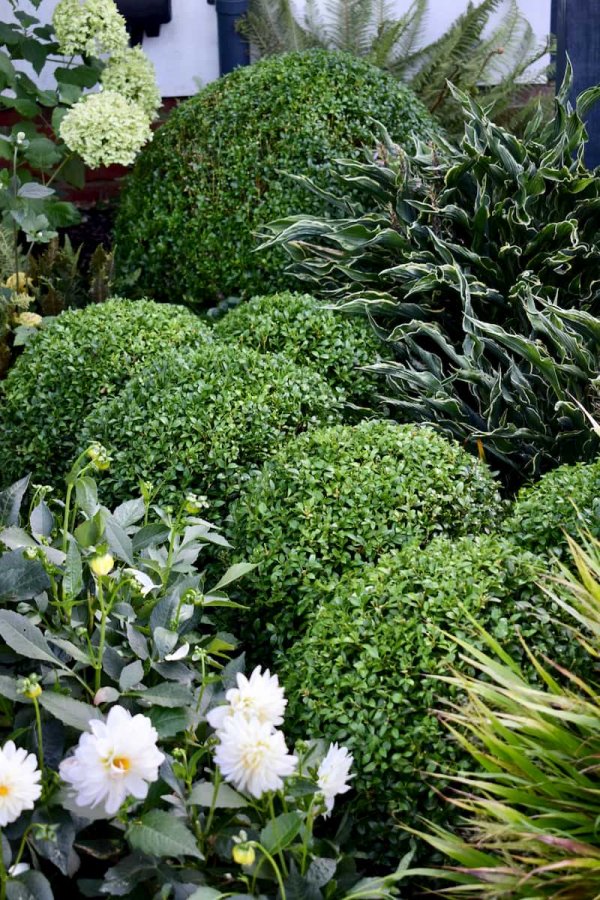 To the rear of my house, the White Garden includes several beds close to the building which are in shade for much of the day. Box domes and cylinders provide real character here and are worth fighting for! A couple of patches of blight broke out last autumn, but quick response with anti-fungals got it under control. Although prone to blight due to the shade and humidity here, I am carrying out a thorough regimen of spraying to try and keep them healthy this winter.
Further away from the house, a long bed in full sun in front of the greenhouse has a theme of mounded clipped evergreens including lavender, myrtle and rockrose. Box domes provide a strong anchoring element here as they clip the tightest and neatest. Being sunny and airy here, they are far less prone to blight. They also have had no box moth. Judicious spraying might keep it that way!
In another post I intend to look at the chemical control I am using and consider alternatives to box.