This is the Abyssinian gladiolus. It's one of those plants that has switched genus recently. Previously Gladiolus callianthus, it is now known as Acidanthera bicolor 'Murielae'. I can see why they went for the name change, as it is quite a different animal to the gaudy floristry things we usually call gladioli.
I grew two-score of these corms this year split between two 12in terracotta pots which I planted in the autumn. I started them in the greenhouse as they prefer the heat, and they grew to about 1.2 metres (4ft) tall (1.5 with the pot) by late July when I moved them outside.
The foliage is sword-like and grassy, but prone to damage by the wind; The arching blades easily bend and kink which stops them looking their best once damaged.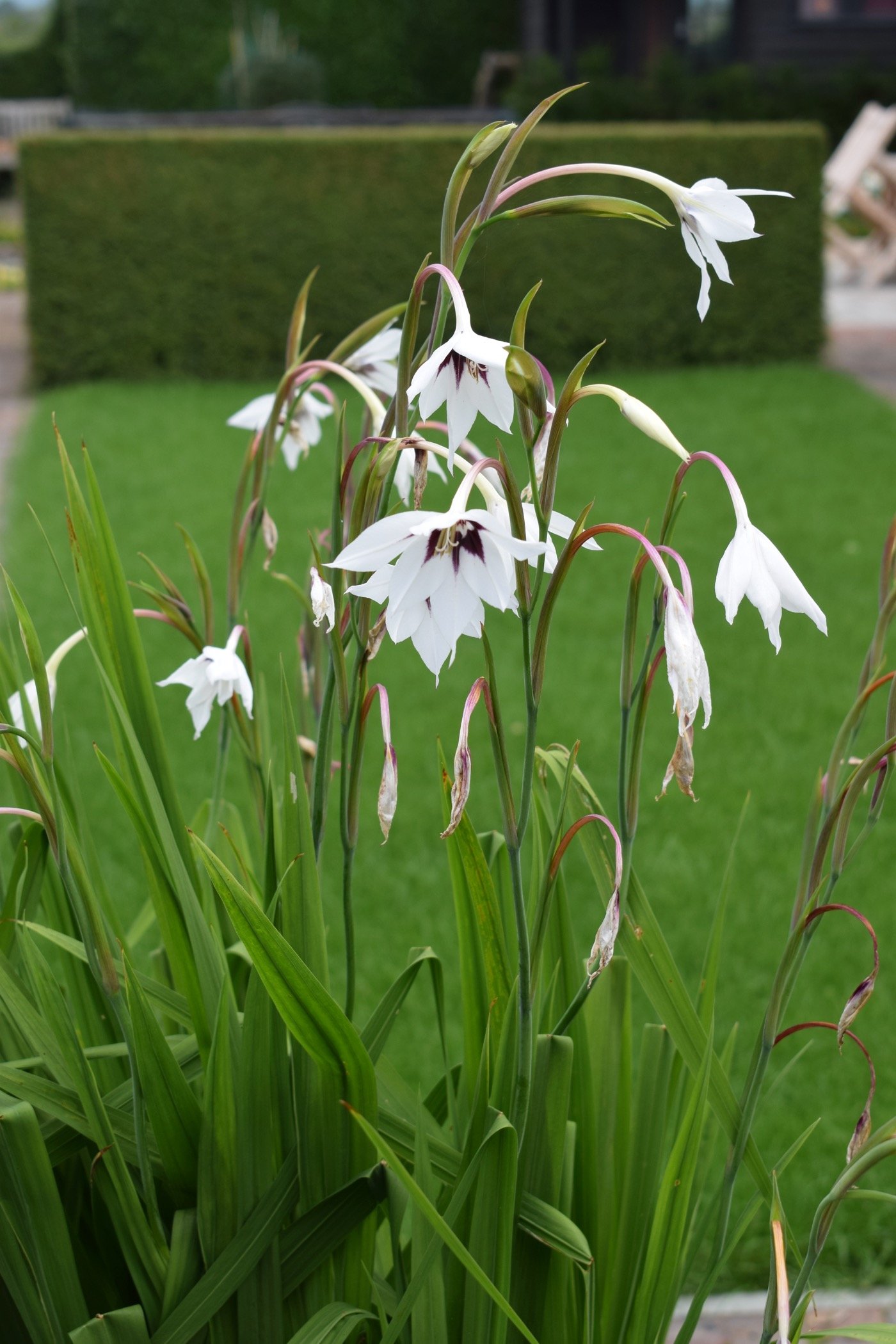 The flowering stems rise above the foliage in mid-Augusts with narrow buds emerging each from an arching tube. They open into six-petalled flowers, 7cm (2½in) across, pure white but for the burgundy-purple throat; the purple colour is present also in the necks of the tubes from which the flowers depend.
With their faces somewhat downcast these lovely flowers deserve close attention. The patterning and form of their petals is interesting, but up close you notice their heady perfume, which, on still evenings travels on the air scenting the garden delicately.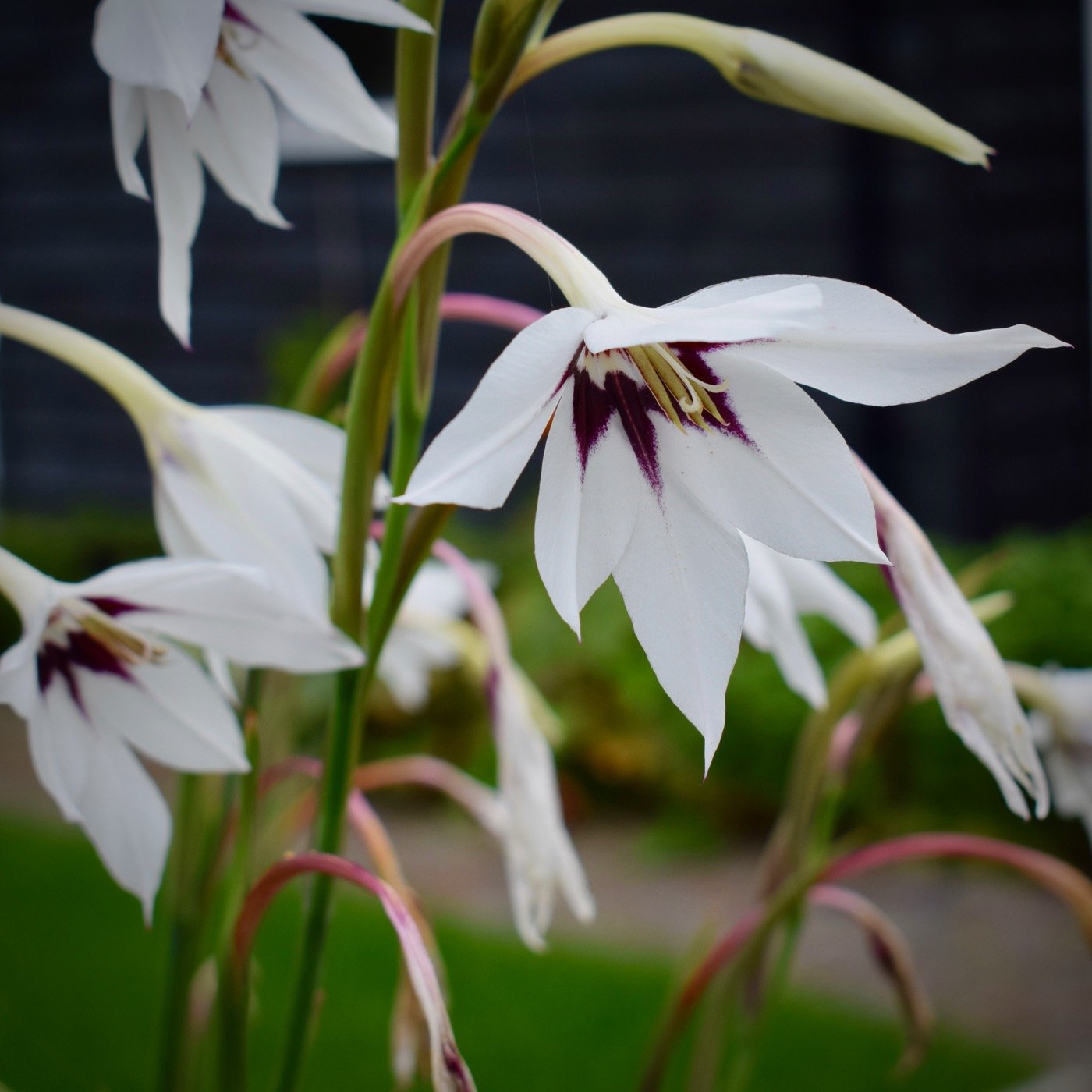 Each flowering stem displays only one or two open flowers at a time, but as one fades and shrivels another, higher up takes its place, keeping the show going for several weeks.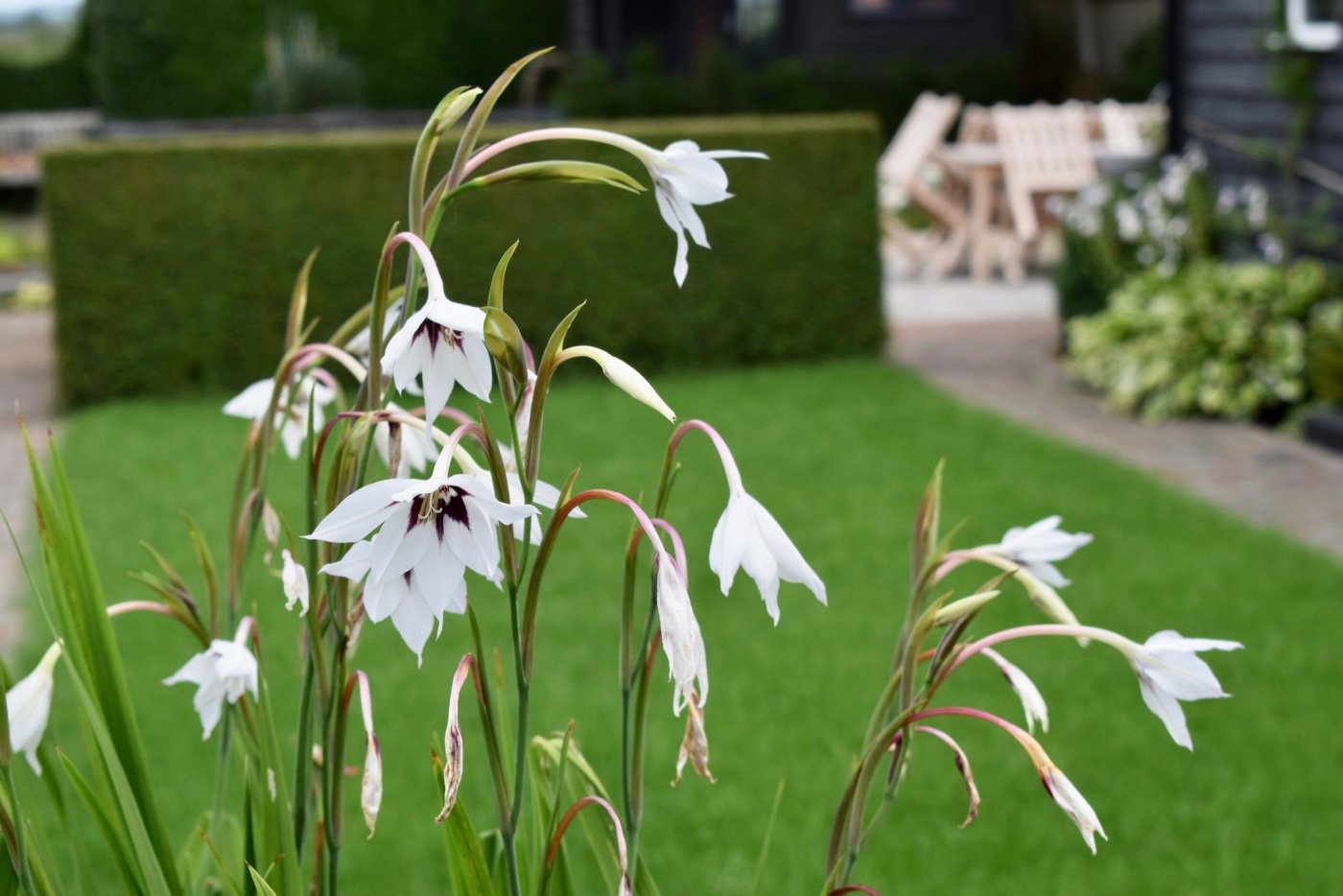 I like them a lot for their simple natural form, but they are not the tidiest of plants: the leaves stick out all over the place, and there are too many dead flowers which don't drop readily. I think, perhaps, they would look best growing up through dry grasses such as Stipa gigantia, or s. tennuissima, perhaps in a naturalistic prairie-style garden, dotting them about more informally, rather than in tight clumps like I have them.

For their cultivation the RHS recommends:
Plant 10 to 16cm deep on a bed of sharp sand in fertile, well-drained soil. Lift when foliage dies back, discard old corms and store new corms in a dry frost-free place until planting in the spring. In milder areas a thick dry winter mulch may suffice.
As mine are in pots I will probably lift and discard the old corms and replant the new ones as they recommend.