Tackling a weed-infested mess
As explained in a previous post the Green Roof had become an unmanageable mess of weeds and out-of-control self-seeding grasses. This year I have tackled it and started to transform it. This is what I did…
Step 1: I carefully sprayed off the weeds and unwanted plants.
Step 2: A few weeks later I scraped off the dead/unwanted vegetation, leaving just the best clumps of non-invasive plants that had succeeded.
Step 3: Using a high UV tolerant woven landscaping fabric I covered the soil, cutting it around the plants I wanted to keep, such as the pasque flower (which loves it up here), bottom right, above. The fabric is tucked down at each end. I used bricks and old bits of slabs to hold it down temporarily to prevent the wind lifting it overnight.
Once I got going this was not such a large job. I could tell it had immediately brought this year's maintenance down to a manageable level. Hurrah!
Step 4: I added new alpine plants, cutting individual holes through the fabric. I chose plants that grow out to make clumps from a central point.
Step 5: I placed old paving slabs as stepping stones, but also with the idea that they will create a cool moist root run for adjacent plants.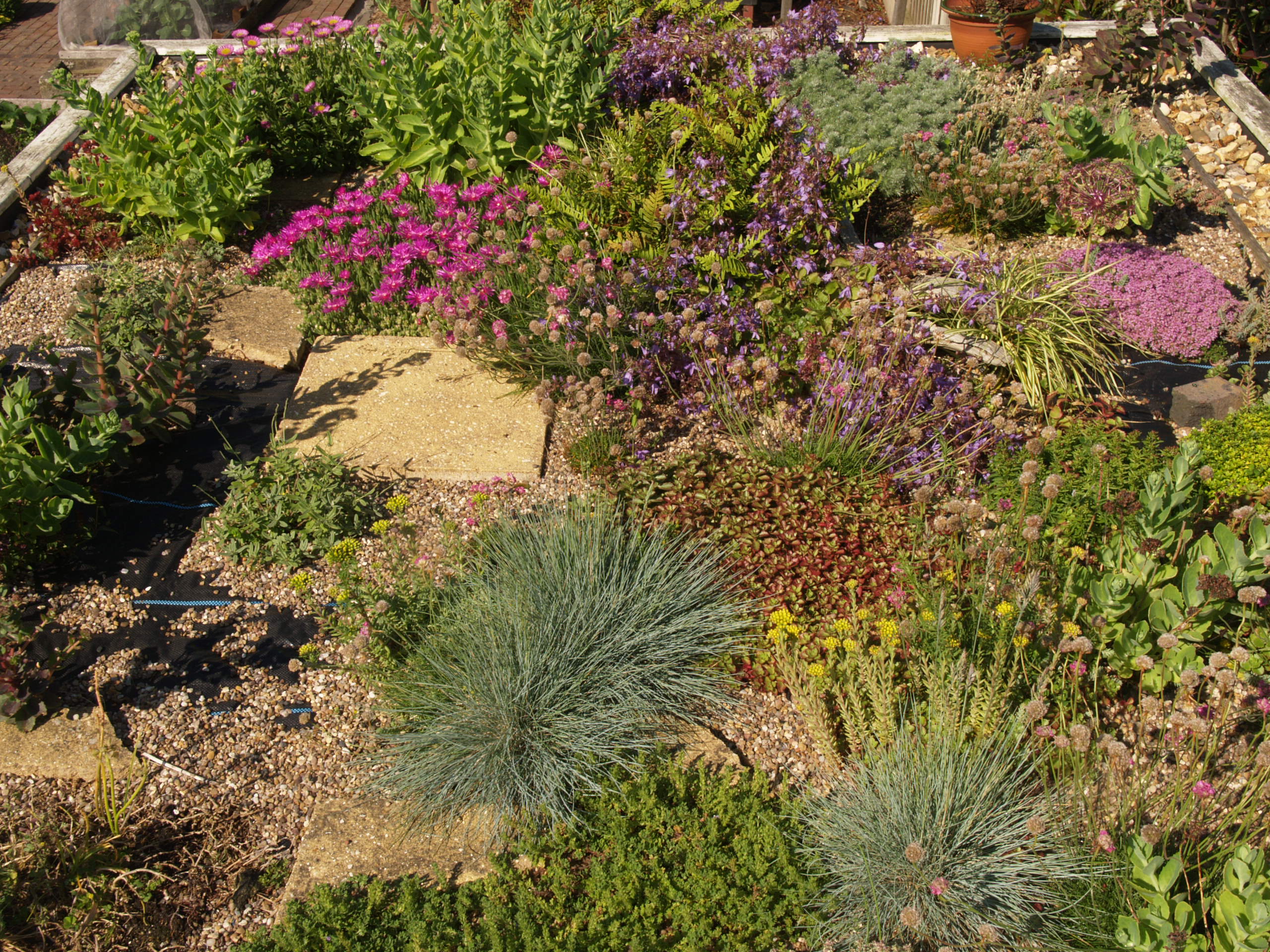 Step 6: I added a thin layer of alpine grit between the plants, just covering the matting.
Additional steps I have taken to ensure the success of the new planting
Step 7: Weed regularly. As there are few points where weeds can take root this has become a much easier job. Most weeds have appeared in the crowns of existing plants, but I now feel that I am not fighting a losing battle.
Step 8: Use of organic slug pellets. I had not realised how much damage slugs and snails were doing until I started clearing the old plants and weeds and found hundreds of the blighters. The plants have grown so much better this year, especially the Sedums and Lampranthus which previously showed considerable mollusc damage. I think the matting has reduced the vine weevil population too.
Here is the planting viewed from the garden – looking more lush and colourful than ever before…
So here's how it's shaping up…
Gallery of the new Green Roof planting, July 2016
More About the Green Roof
The Green Roof Construction
Sub-deck structure
Butyl liner installation
Drainage detailing
Growing medium & planting
Construction drawing
The Workshop construction
Learn how the building under the Green Roof was designed and constructed.