2016 UPDATE
summer training & fruit
2016
UPDATE: Late summer 2016
The pear has grown nicely. Compared to the apples it has had far fewer pests. The first flush of leaves were perfect, although the later growth was less happy. You can see that the new vertical shoots have much smaller leaves. Even so the fruit is almost perfect – well formed and handsome. We have picked one, and are currently ripening it indoors. We will pick the others soon.
Those long vertical new shoots are perfect for training, so today (Sep 24th) I got my secateurs, canes and ties, and made a start: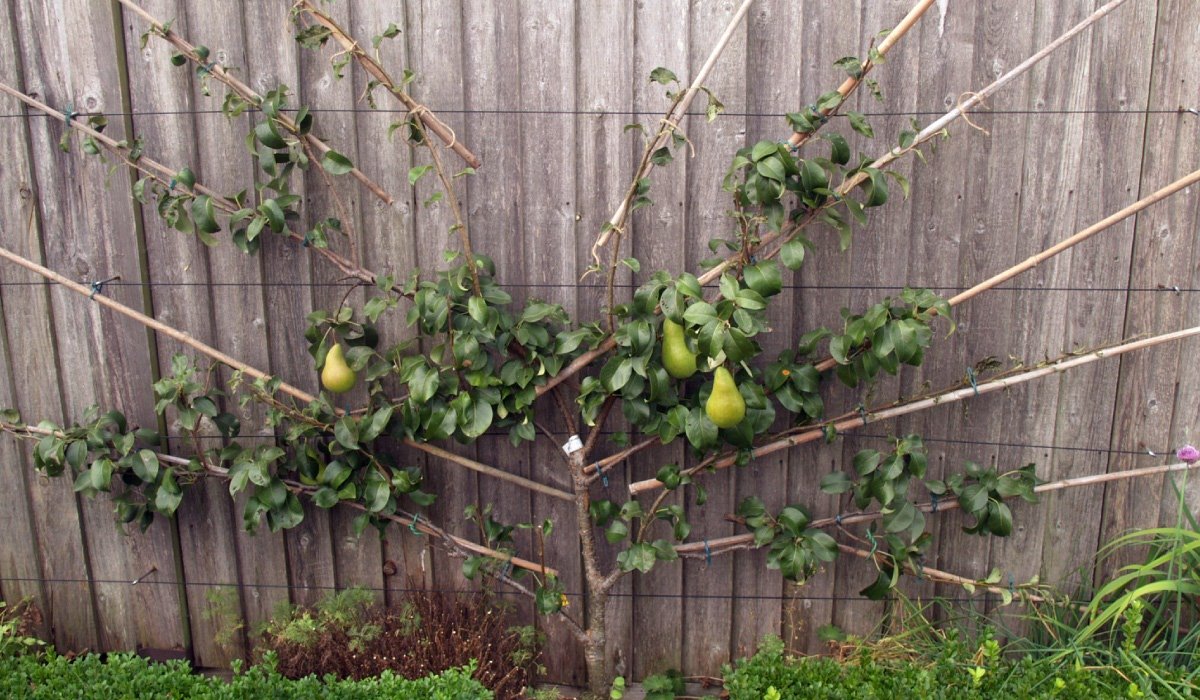 If you study the two photos you will see which canes have been added, and which have been lowered and raised. Branches on the old canes are still flexible enough to move a short distance, which creates room for the new shoots to be tied in. Hardly any growth needed cutting back. Almost everything could be trained into the existing space.
At this stage I am still creating the basic framework. Next year the older branches will be less flexible and will probably remain in their position for the rest of the tree's life. New growth, extending from their tips, however, will be supple enough to train into the gaps around the periphery. Thus the fan 'grows'.
Here's the first pear of the season. It's pretty well perfect. I think it was picked a little early, and we only ripened it indoors for a week. I reckon it could have done with another week. That said, it was sweet, crisp, mildly fragrant and really tasty.
READ ON FOR 2017 UPDATES >>>>