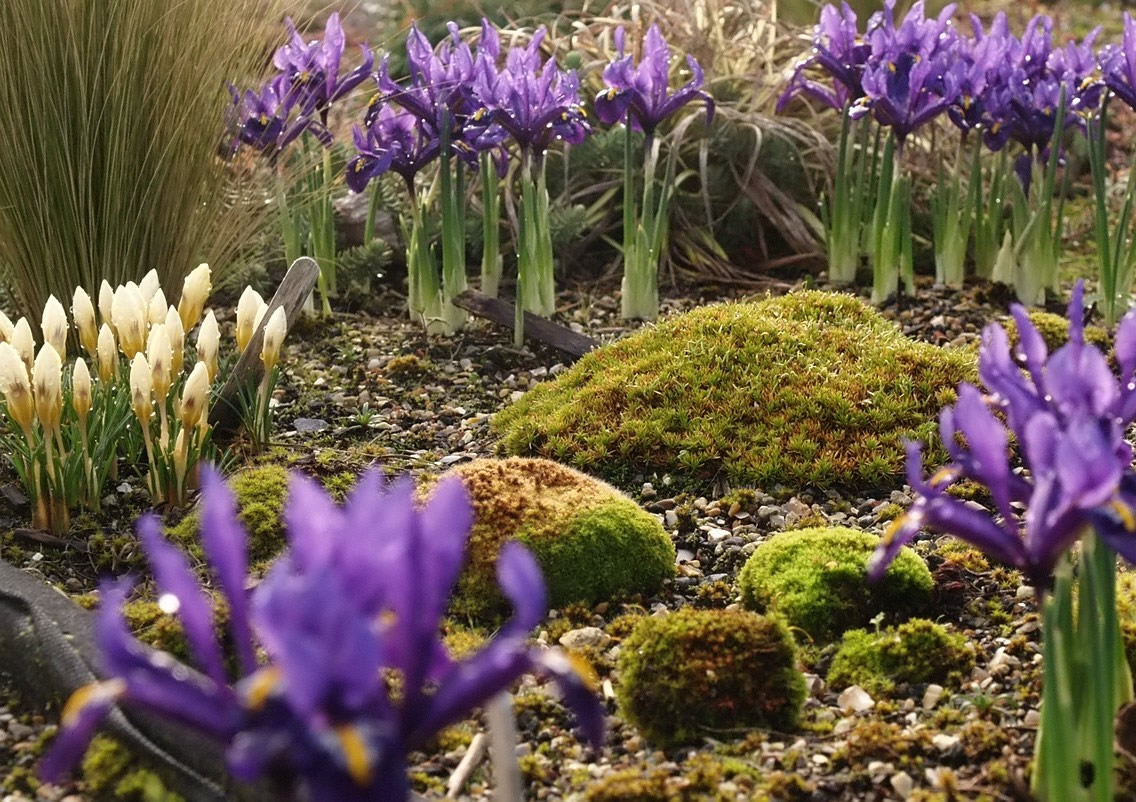 Nothing helps shorten the seemingly interminable English winter more than early spring bulbs – bright and hopeful in the brief moments of sunlight that pierce our typical grey skies. In this regard the green roof has proved itself unexpectedly successful, and created a fantastic display (of which the above is just a tiny portion) far earlier in the year than I expected.
Following a long dry summer and one of the coldest winters I have known these purple Iris reticulata and cream Crocus have made a triumphal return, far bolder and brasher than the snowdrops that have only just opened in the woodland garden. When I planted this rooftop experiment some 12 months ago I was unsure how well they would do – there was scant information on the web of other green roof gardeners having planted these bulbs, or any bulbs for that matter. Where I have planted Iris reticulata and crocus sp. in other areas of my garden they have never returned with such vigour – in fact they usually fade away rapidly, with a high percentage coming up blind in their second year. Here on the roof, though, they have come up strong and full of buds! I had guessed the environment of the green roof might mimic their native habitat and thought that a good summer baking would help ripen the bulbs. It would seem from these promising early results that they may, indeed, turn out to be perfect green roof citizens.
The mossy mounds in the photo are of interest too. Those in the foreground are small hummocks I plucked from the tiles of our house roof last year. After placing them on the green roof they sulked, and quickly turned brown as the summer came on. However, having somehow survived the pigeons that scavenged them for nesting material, and after spending a week or two covered with a foot of snow, they have rejuvenated and are now starting to form a happy green carpet (I hope!).
The large mossy mound in the midground is not a moss: it is the Falkland island Balsam bog or Cushion plant (Bolax gummifera) – unlike the moss this stays a fresh green all year round, and is quite firm, even hard to the touch, so the pigeons give up on it tout-suite . Like the other plants in this post it was something of an experiment – I didn't know how it would cope with summer drought and winter wet – but like the bulbs and true moss it appears to be quite a success as a green roof moss mimic.
Gallery of triumfal bulbs:
More About the Green Roof
The Green Roof Construction
Sub-deck structure
Butyl liner installation
Drainage detailing
Growing medium & planting
Construction drawing
The Workshop construction
Learn how the building under the Green Roof was designed and constructed.