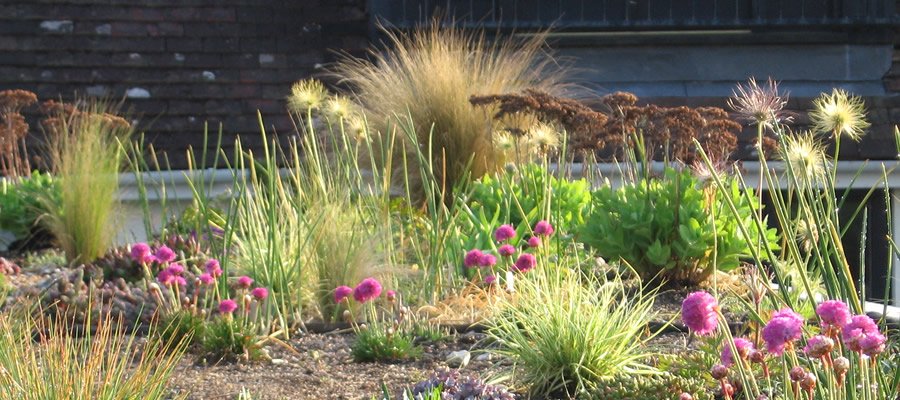 Only a couple of months after planting and the thrift is in flower. The Ice plants (Sedum spectabile) are fleshing out into stocky clumps with their old seed heads still providing textural interest and contrast. The clump of pale green grass in the mid-right foreground is Carex 'Evergold', to the far left Festuca glauca. The seed heads towards the top are from the white Pasque flower (pulsatilla vulgaris 'Alba') which I added a few weeks ago.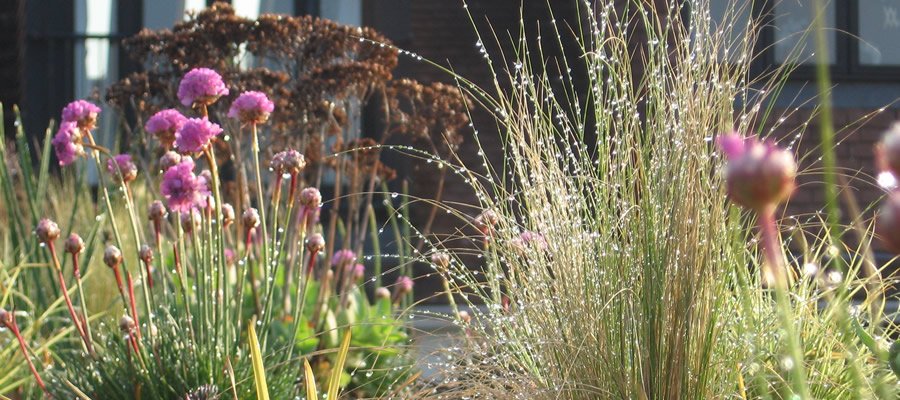 This closeup shows rain drops clinging to the ponytail grass (Stipa tenuissima). This grass has such a fine blade, standing upright and flowering with delicate golden heads in a month or two. Its downside is that it seeds like crazy – so I may regret introducing it to the roof!
Notable in this view is the candy pink flowers of alpine catchfly (Lychnis alpina) with its bright green tufty clump of foliage and the mound of purple stonecrop (Sedum spathulifolium purpureum). I am pleased with how quickly the plants are creating an alpine meadow effect.
More About the Green Roof
The Green Roof Construction
Sub-deck structure
Butyl liner installation
Drainage detailing
Growing medium & planting
Construction drawing
The Workshop construction
Learn how the building under the Green Roof was designed and constructed.